ON THE CONTINENT
Auction report. Zacke, Vienna. 27th March 2020
Netsuke Auction News – Summer 2020 Roundup
What extraordinary times we are living in—a pandemic of global reach, the long-term consequences of which we cannot yet fully imagine. Inevitably one of the casualties has been the auction scene, with almost no live sales of netsuke in either London or Paris. Under the circumstances, it was brave of Zacke to go ahead with their auction, not that they probably felt they had much option, having put the sale together and published another lavish catalogue before it was evident that lockdown was about to become the norm. As a dealer, I had already noticed that there still seems to be a market, presumably supported by those collectors
fortunate not to have been affected financially who are confined to their homes with little to do but indulge their collecting habit.
Once again it was a large sale, 247 lots of netsuke, about half of which were ivory, followed by a few nro and smoking accessories. Observers of the sale may be a little confused by Zacke's idiosyncratic system of publishing both an estimate and a starting price, the latter being roughly half the former. I think it is probably true that in general, though not always, the reserves were closer to the higher figure. The auction house also operates a system according to which they announce as "conditionally sold" lots that do not reach their reserve, but for which there is a bid. This practice makes it quite difficult, even for a seasoned auction watcher and former auctioneer such as I, to have a clear idea of what has, and has not been, sold. This also baffles online platforms such as thesaleroom.com, which reports as "sold" lots that may prove later not to have been.
The sale started with some attractive and relatively inexpensive early netsuke. According to my own notes, eight of the first ten lots were called as conditionally sold, while it was only the ninth and tenth that appeared as sold on the later published list of results. In general, these early netsuke did not prove popular; there is nothing unusual in that. While I myself find them interesting, the demand for them is limited to a few collectors only. But look how much character there is in the standing Hotei (Lot 5, unsold, estimate €1,500).
After nearly thirty lots the auction seemed to pick up pace, with some prices nearing the €6,000 mark. The most interesting of these was a netsuke of a seated sage with a snake by Hoshin, the rare early artist recorded in the Sōken Kisho of 1781 (Lot 32, €5,688).
As the catalogue note pointed out, Frederick Meinertzhagen had his doubts about the authenticity of this piece. While in general I have huge respect for his opinions, I sometimes disagree with him categorically, as did the cataloguer and, presumably, the buyer.
Am I alone in liking Rantei? His output is mixed, but at his best he is an excellent carver.  Fewer than 10 percent of his carvings are in wood. Of his thirty or so tigers, Fuld lists in his Index only one in wood, meaning that we now know of two. To me it seemed well carved and to have that humorous caricatural quality of so many great tiger netsuke (Lot 44, €2,401). I thought it a better netsuke than the Kokei and Masanao (Ise) tigers in the same sale, lots
73 and 74, which sold for more. Actually, there was a good selection of tigers in this sale.
While Hakuryu and his followers appeal to me personally less than Rantei, there was a group of tiger and cub by Hakuryu II that was most unusual for the darkness of its stain, the unstained areas providing striking and distinctive stripes
Zacke always seems to do well with this school, as demonstrated by this example, presumably by the second Hakuryu (Lot 46, €10,512), and a tighter, more compact group by his master (Lot 47, €15,990).
The most expensive netsuke in the sale was a Tomotada ivory recumbent dog with shell, previously in the Katchen collection (Lot 50). This was a conditional sale, confirmed afterwards at €25,280, a little less than when I sold it a few years ago, which is perhaps
some indication of the market holding up.
The second most expensive netsuke of the sale was the cover lot, a remarkable study of an eagle attacking three monkeys by a Hakata carver signing himself Toshimaru (Lot 105, €22,752). His identity is not entirely clear, but he is evidently associated with Otoman, and it was a very strong netsuke. The catalogue mistakenly described it as from a British collection, but its continental owner had picked it up for a song at a Sotheby's London sale in 2004.
Kagetoshi is a curious artist. Much admired in his lifetime, he is not so popular today, perhaps in part because his netsuke are usually conceived with their
function of holding sagemono evident in their shape. For that reason, I think one can consider it an achievement that two of three sold, the second for a high price for the artist (Lot 56, €4,803).
Lot 68 (H 3.2 cm)
Lot 95 (L 5.4 cm)
Lot 131 (H 3.2 cm)
It seems that someone else agreed with me that the mid-20th century netsuke of two rats by Shoun was fine (Lot 68,). Reminiscent of Kaigyokusai, as well as another later carver, Chokusai, it made €8,848.
In their last sale Zacke seemed to do quite well with Iwami netsuke. This time it was harder, no doubt after the market had been spoilt by two sales of the Huthart collection at Bonhams London. That did not prevent a Masatoyo carp in waves from doing well (Lot 95, €14,454), while two boar's tusks were unsold.
Zacke has made a point of late of focusing on a particular artist or school. In this sale they had an interesting group of netsuke signed Ikkosai, the subject of two articles by Giovanni Rimondi and Lukas Zacke in the International Netsuke Society Journal, vol. 39, issues 2 and 3. Here they had no fewer than ten Ikkosai works, including two ojime. They managed to sell them all (though not for very high prices, it must be said), the most expensive being the seated snacking kappa, previously in the collections of David Swedlow and Jacques Carré (Lot 131, €5,688). There were similar groups of netsuke by Hoshunsai Masayuki and Yoshimura Shuzan, to which I will return later.
Another thematic group was of late stained and inlaid netsuke. Zacke normally does well with these, perhaps a little less well this time, though they recorded a good price for a Yasuaki of a woman in spectacles cutting her toenails (Lot 146, €6,570).
A surprising aspect of this sale was seeing ivory carvings of the 1960s to 1980s being sold. This late date did not prevent a Masatoshi based on a Masanao of Kyoto in the Kurstin collection from making €7,584 (Lot 153).
The next section of the sale was that famously difficult area for auction of contemporary netsuke. The highest price here was for a strange mastodon ivory netsuke of a ghost by Michael Birch (Lot 159, H5.3 cm, €5,688). The very able carver Alexander Derkachenko had another four lots in the sale, of which only one sold, an interesting set of a fox netsuke confronting a hare ojime (Lot 163, €2,780).
Manju and stag antler were categories in which there seemed to be bargains (Lot 169, €2,365, and Lot 172, €2,148). I wonder
if anyone else questioned the 18th century dating of the most expensive stag antler piece (Lot 173, €7,584).
In the Asakusa section I thought there was a bargain in the form of a Kokusai obihasami of a kappa, reminiscent of the carver's monkeys (Lot 184, €3,539). From this school, Zacke also managed to gather an interesting group of carvings by Hoshunsai Masayuki. My own favourite was the stag antler mokugyo with confronted dragons, exquisitely carved, which seemed cheap for such an accomplished netsuke (Lot 187, €7,380).
Lot 172 (H 9 cm)
Lot 173 (H 9.8 cm)
Lot 184 (H 10.2 cm)
Lot 187 (H 4.3 cm)
Mask netsuke—which I happen to like, and several of which came from the Peter Müller collection in Switzerland—made rather pedestrian prices. The exception was a large Gyodo mask of Kannon, probably an unsigned work of Naito Koseki from the early years of the 20th century (Lot 202, €6,067).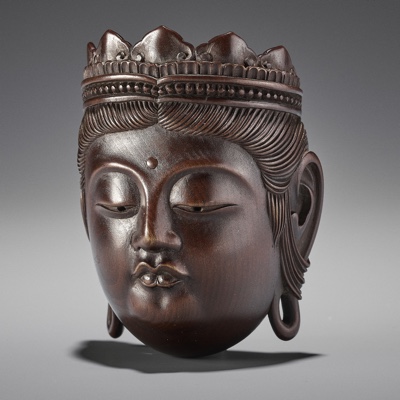 Lot 202 (H 7.3 cm)
Yet another thematic group was of netsuke by or in the style of Yoshimura Shuzan, of variable quality and date. It is so difficult to know what is actually by him. Two bidders seemed to agree with me that the best of these was a running kirin (Lot 210, €10,744).
Finally, a small section of netsuke in various materials included a strong price for a porcelain netsuke, a beautifully modelled and glazed eggplant (Lot 225, €6,320).
All in all, this was a steady sale. By my own count 67 percent of lots in the auction were sold, which in such uncertain times is not a bad result at all. Hats off to Lukas Zacke and his team.
Lot 210 (L 8.5 cm)
Lot 225 (H 5.5 cm)
I hope you have enjoyed this Netsuke Auction News – summer 2020 roundup. If  you have any comments please leave them below. I always love to get feedback from you and will do my best to reply.